Mar 4, 2019
Qatar Care Corporate Manager, Ms. Rose Uy Elected as the new PNAQ 2019 President
---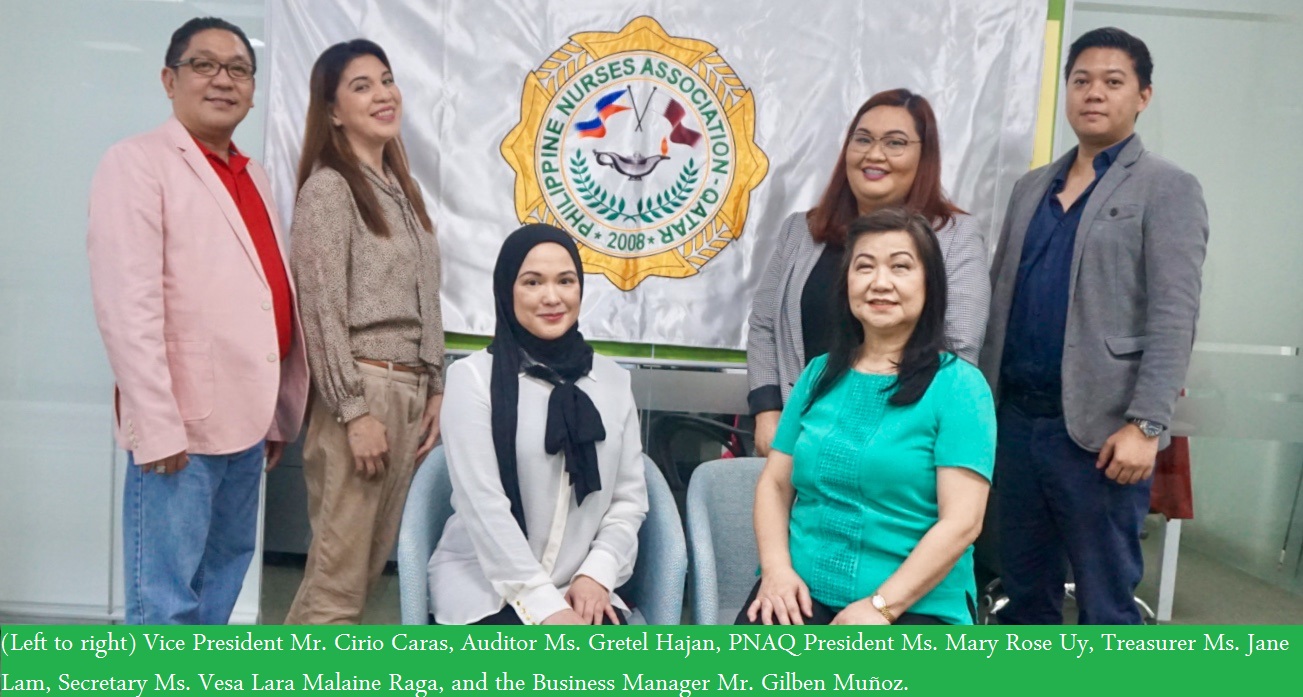 (Left to right) Vice President Mr. Cirio Caras, Auditor Ms. Gretel Hajan, PNAQ President Ms. Mary Rose Uy, Treasurer Ms. Jane Lam, Secretary Ms. Vesa Lara Malaine Raga, and the Business Manager Mr. Gilben Muñoz.
The Philippines Nurses Association Qatar, an accredited professional organization in Qatar of the Philippine Embassy held its general assembly at Figaro Coffee along Salwa road, Doha Qatar. A new set of officers were elected during the said event for 2019-2020. The event was attended by past officers and Filipino registered nurses in Qatar working in different health facilities, clinic, and hospitals.
The newly elected president of the organization is Ms. Mary Rose Uy, the past Vice President of the organization, who at the same time the Corporate Manager of Qatar Care, the first and the biggest homecare company providing health and medical services in Qatar since 2007. Ms. Uy has been an active community leader in Qatar spearheading health community outreach services.  She holds a different position in the past years. She also served as treasurer from 2016. She has involved Qatar Care in many significant community engagement activities of PNAQ such as medical missions which are conducted annually.
Apart from Ms. Uy's leadership involvement with PNAQ, Ms. Vesa Lara Malaine Raga, the medical director of Prime Care, a sister company of Qatar Care was also elected as the new Secretary, Ms. Raga is a registered nurse both in the Philippines and Qatar and has been an active leader in the delivery of health care services both at Prime Care and the community. She has handled and supervised from minimal to complex cases requiring optimum nursing care and immediate attention.
Both the elected officers of Qatar Care will be serving the organization for one year where their profound expertise and unquestionable competency, professionalism, and expertise are significantly needed in achieving the primary goals and objectives of the organization. Moreover, the new set of officers of PNAQ is inviting members to renew their membership and avail of the many benefits the organization offers.
PNAQ is encouraging nursing graduates to take the Special Nurses Licensure Exam, in which they will be assisted with the registration and application They also offer review classes during the weekends. 
The warmest congratulations to Ms.  Rose and Ms. Vesa!!! Qatar Care is truly proud of you and your achievements both as an individual and leaders of our pack.