Apr 1, 2020
QATAR CARE VOLUNTEERS TO THE MoPH AS COVID-19 SWAB TEAM
---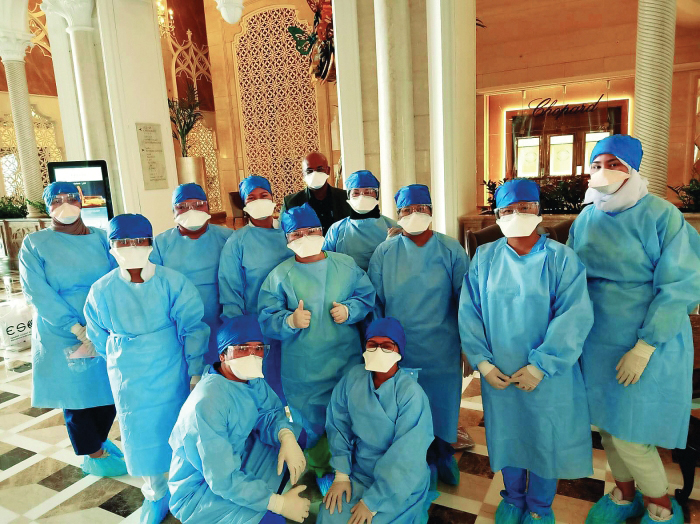 Qatar Care has been at the forefront of care delivery in Doha for the last 14 years. It has served thousands of clients. Many were on a long-term contract with Qatar Care. Qatar Care has been an active private health care provider in Doha that went beyond its business realm. It has participated in numerous social and community events that provide support to the healthcare advocacy of the country. Following the National Health Strategy of the country, Qatar Care aligns itself to the three most important flagships of the State of Qatar along with Better Health, Better and Better Value.
The COVID-19 pandemic has quickly affected right across Qatar since February 2020. As an initiative to support the government, Mr. Saleh Salem Al Eida, Qatar Care Executive Director engaged the company in the fight against COVID-19 by participating in the voluntary works by Qatar Care employees willing to join the campaign in the Ministry of Public Health which commenced last year March 24, 2020, to present. Both the administration staff and other nurses of the company were involved in the swabbing activity in various quarantine facilities and hotels.  Before their assignments, they completed the strenuous training, certification, and familiarization of health care protocols. In fact, the company received MOPH recognition for the services Qatar Care had voluntarily rendered to the community.
Mr. Saleh said that the voluntary work of the company is considered the least possible thing to repay Qatar that exerts its utmost efforts to maintain the well-being of its people, back its organizations, and give due support to individuals and organizations alike.
Accordingly, he emphasized that the company is ready to exert more efforts to assist the initiatives of MoPH to fight the COVID-19 pandemic and gives all the necessary support to private health organizations out of its belief that collective work and integration between the public and private sector would ultimately attain and maintain the best health care quality. Qatar Care would remain supportive to the MoPH as it provides all the possible support and assistance to the private sector in the country to help in keeping the excellent and sophisticated healthcare level in Qatar.
Despite its community services to the State of Qatar, Qatar Care has not halted its operation in providing quality care to its clients and staff as well as its stakeholders.
Moreover, it continued to provide health education to clients and the community based on its direct case analyses and findings in spreading information regarding the incidents that they encountered in the delivery of care. Clients and care partners are engaged in the process to ensure that similar incidents are prevented specifically those concerned with falls, workplace violence, and COVID-19 infection. Webinars and virtual lectures through Zoom meetings and home visits are utilized to ensure that the information is fully disseminated to the target audience that creates an impact on its people-centered care approach.
https://www.qatar-tribune.com/news-details/id/186183/qatar-care-assures-public-of-safety-of-community-and-health-workers