Apr 1, 2021
Qatar Care and Hamad-PNS Organize Future-Proof Leadership Webinar
---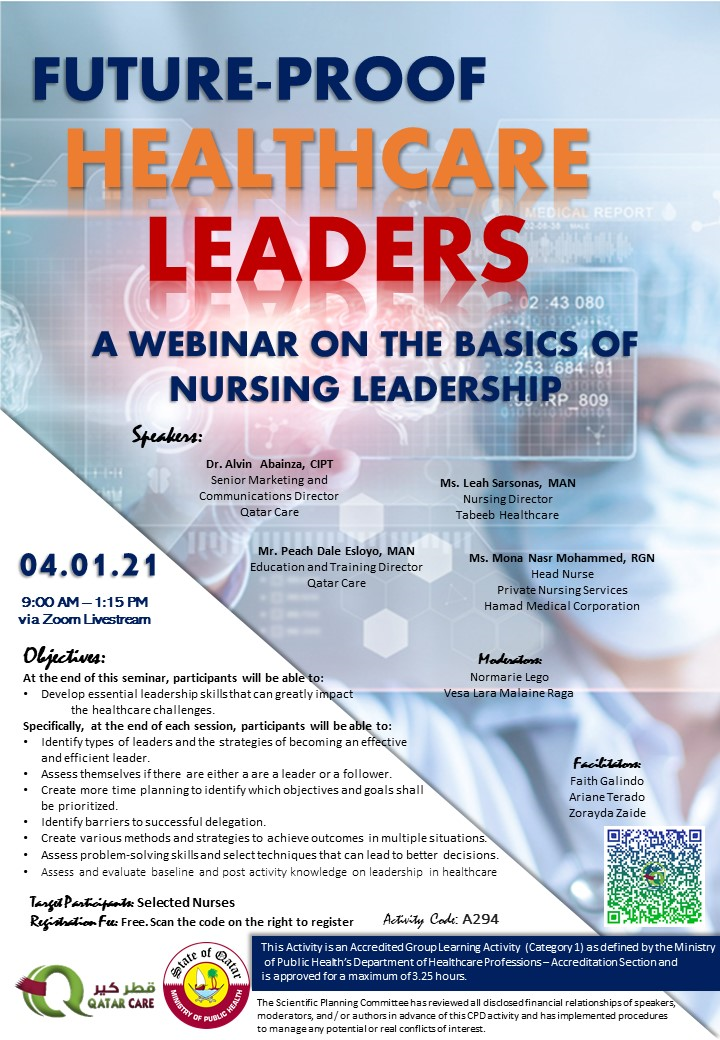 Qatar Care and Hamad Medical Corporation - Private Nursing Services (HMC - PNS) joined together to organize a Leadership Webinar amidst the time of the COVID-19 pandemic.
As part of the quality improvement project of Qatar Care, Continuing Professional Development (CPD) Committee of Qatar Care initiated the conduct of the CPD activity titled, "Future-Proof Nursing Leaders: A Webinar on the Basics of Nursing Leadership" last 1st April 2021 at 9:00 am to 1:00 pm via Zoom Webinar. It is an Accredited Group Learning Activity (Category 1) as defined by the Ministry of Public Health's Department of Healthcare Professions – Accreditation Section and is approved for a maximum of 3.25 hours.
The webinar was coordinated by its CPD Chair, Ms. Normarie Lego, RGN, and CPD Chairman, Mr. Peach Dale Esloyo, RGN, MAN. Also, through the help of Ms. Marwa Moghazi, RGN (PNS Nurse Educator), and the support of the General Manager, Ms. Mary Rose Uy, RGN, and Assistant General Manager, Ms. Rowena Dimpaso, RGN, the activity was successfully conducted.
The knowledge and expertise of the speakers had truly helped in achieving the main goal of the activity which is to develop essential leadership skills that can greatly impact the healthcare challenges.
The highly esteemed resource speakers were; Dr. Alvin Abainza (Senior Marketing and Communications Director of Qatar Care), Ms. Leah Sarsonas, MAN (Nursing Director of Tabeeb Care Services), Ms. Mona Nasr Mohammed, RGN  (Head Nurse of HMC – Private Nursing Services) and Mr. Peach Dale Esloyo, MAN (Education and Training Director of Qatar Care).
Also, without the remarkable talents of the members of the Qatar Care Scientific Planning Committee namely, Ms. Ariane Terado, RGN (Technical Director), Ms. Vesa Lara Malaine Raga, RGN (Activity Moderator), and Ms.Jerlyn VillanuevA, RGN (Logistics), the activity would not be possible.
Through this event, the speakers highlighted that leadership is necessary during the COVID-19 crisis. It is quintessential to master the leadership skills set of all healthcare professionals as it is critical to health care.
At this point, Qatar Care CPD Committee is confident and true in achieving its mission on
providing relevant healthcare education through recognized and accredited evidence-based professional development programs to healthcare professionals as well as to their clients in general.
Qatar Care Education and Training shall continue to Soar beyond this pandemic.