Oct 29, 2021
Cervical Cancer 101
---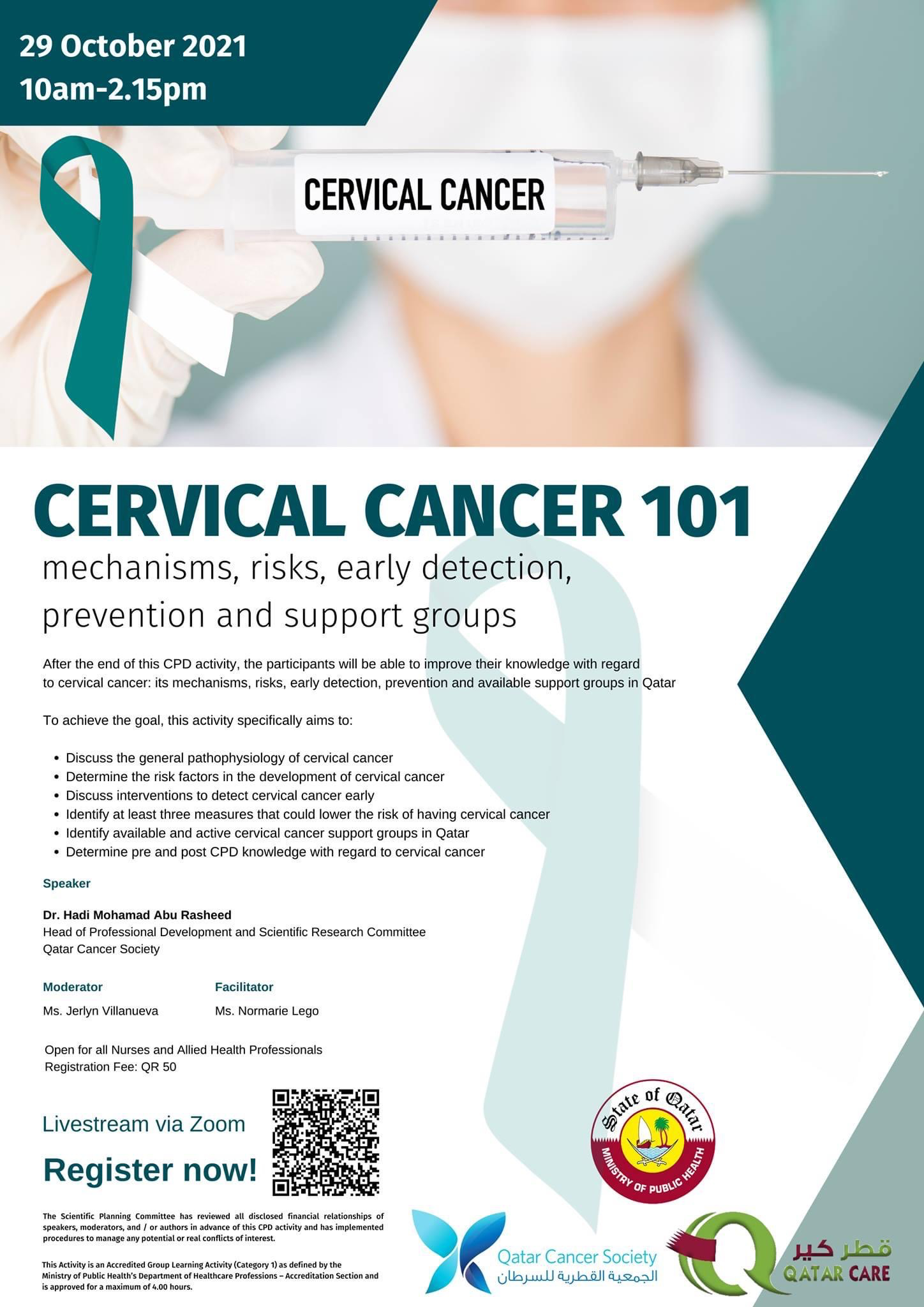 October 29, 2021 – Qatar Care in collaboration with the Qatar Cancer Society held a webinar on Cervical Cancer via Zoom Livestream. This activity marks the First CPD collaboration between Qatar Care and the Qatar Cancer Society.
"Cervical Cancer 101: Mechanisms, Risks, Early Detection, Prevention, and Support Groups" is an Accredited Group Learning Activity (Category 1) as defined by the Ministry of Public Health's Department of Healthcare Professions – Accreditation Section and is approved for a maximum of 4 hours.
The aim of the Cervical Cancer 101 Webinar was to improve the participants' knowledge with regard to its mechanisms, risks, early detection, prevention, and available support groups in Qatar. The webinar was attended by more than 100 nurses and allied healthcare practitioners. 
The webinar's resource speaker was Dr. Hadi Mohamad Abu Rasheed. He is the Head of the Professional Development and Scientific Research Committee of the Qatar Cancer Society.
Dr. Hadi said that "Qatar Cancer Society is eager constantly to organize nationally and internationally accredited professional development and continuing medical education programs for healthcare, health education and communication, patient support, and health behavioral research workforce, prepare and distribute cancer statistics updates , develop strategies to analyze and evaluate the efficiency of Qatar Cancer Society activities, coordinate conducting Cancer health behavioral research in collaboration with health and academic entities and distribute cancer updates for health workforce" Also, Dr. Hadi pointed out that "this event will one of many collaborative CPD events between Qatar Cancer Society and Qatar Care in the area of cancer to build up the capacity of nurses and allied healthcare professionals"   
Through his experience and expertise, Dr. Hadi was able to impart his knowledge on Cervical Cancer general pathophysiology, its current statistics in Qatar and in the world, risks and preventions, and the active support groups in Qatar as well as in the Philippines.
The attendees were exceedingly competitive and remarkably participative on the pre-test and post-test using Blooket, and Qatar Care formally introduced Robot Ricardo, the robot that is extremely hungry for knowledge, which is an artificial intelligence methodology in interactive learning which carries an opportunity for futuristic innovation in CPD activities in the industrial revolution 4.0.
The webinar was spearheaded by Peach Dale Esloyo, RGN, MAN, the CPD Chairman, and Dr. Hadi Mohamad Abu Rasheed, MD, CGC PCT, CGC ISID with the assistance of Normarie Lego, RGN, Vesa Lara Malaine Raga, RGN, and Abdulkarim Agga, MAN. The webinar was indeed a success with the support of Qatar Care's CEO, Abdulrahman Almajed; Executive Director, Saleh Salem Al Eida; General Manager, Mary Rose Uy, RGN; and, Assistant General Manager, Rowena Dimpaso, RGN.
Qatar Care is delightfully grateful to the Qatar Cancer Society for this remarkable joint providership with the mutual goal of improving knowledge, skills, and attitude to implement a safe, highly effective, and excellent client service to the Qatar community.