Jun 15, 2022
Exploring Blood Dyscrasias: Multiple Myeloma
---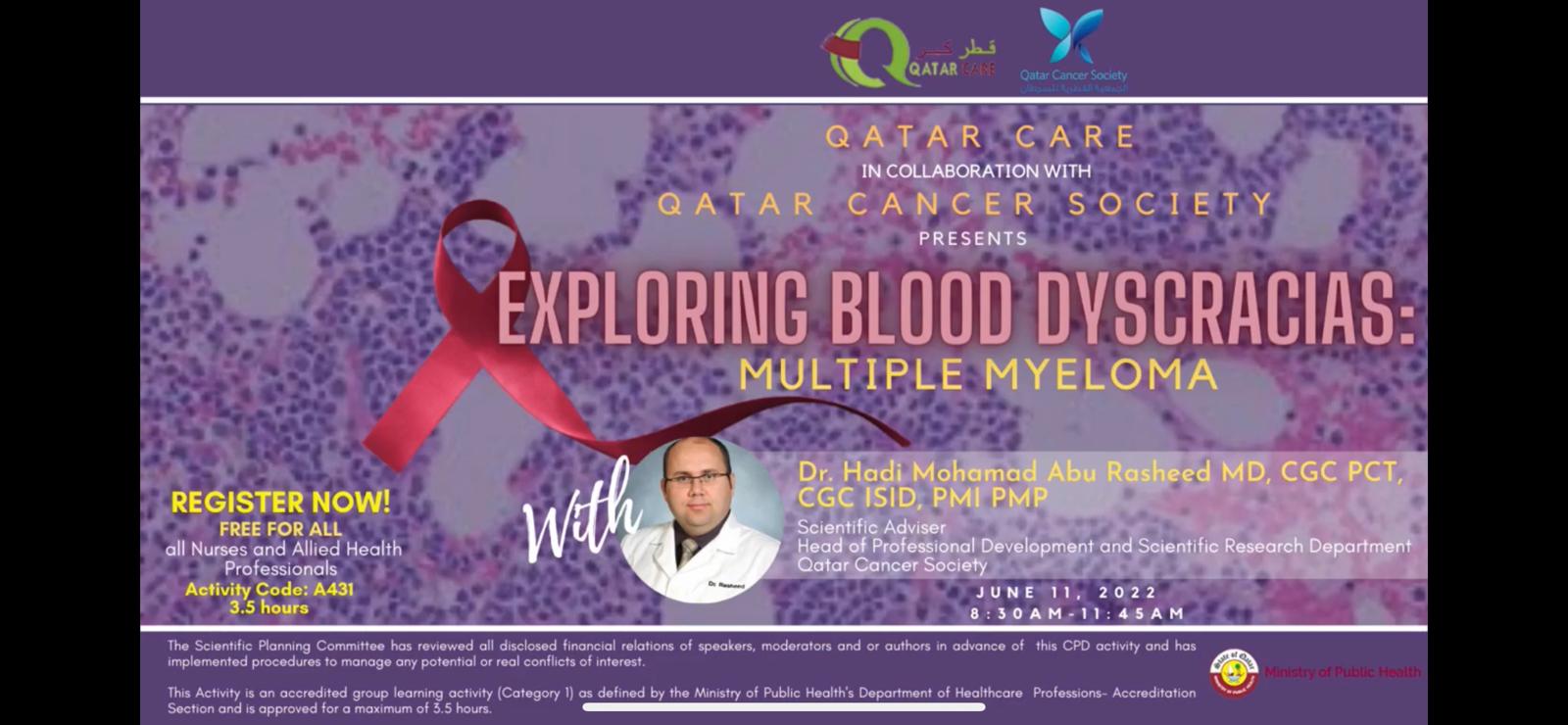 Exploring Blood Dyscrasias: Multiple Myeloma
Abdulkarim Agga, MAN
"You cannot help but learn more as you take the world into your hands. Take it up reverently, for it is an old piece of clay, with millions of thumbprints on it." ―John Updike
On June 11, 2022, Qatar Care in collaboration with Qatar Cancer Society spearheaded another webinar entitled, "Exploring Blood Dyscrasias: Multiple Myeloma". This is an accredited group learning activity (Category 1) approved by the Ministry of Public Health's Department of Health Care Professionals- Accreditation section with a total of 3.5 hours.
Qatar Care, as a pioneer in developing creative learning methodologies, used Wordwall.com, an online platform, to administer a pre-and post-test to assess the participants' knowledge and abilities. The competitors were fiercely competitive and remarkably engaged, and Qatar Care formally introduced them. Qatar Care was also the first organization to use Master-Badge as the platform for its webinar. The Qatar Cancer Society, which has been a long-time partner in providing quality education to its key partners, made this possible.
The webinar was spearheaded by Abdulkarim O. Agga, RGN, MAN, the CPD Chairman with the SPC team composed of Normarie Lego, RGN, and Peach Dale Esloyo, MAN. Together with Dr. Hadi Mohamad Abu Rasheed, MD, CGC PCT, CGC ISID, chairman of the CPD division of Qatar Cancer Society. The webinar was indeed a success with the support of Qatar Care's CEO, Abdulrahman Almajed; Executive Director, Saleh Salem Al Eida; General Manager, Mary Rose Uy, RGN; and, Assistant General Manager, Rowena Dimpaso, RGN.
Qatar Care is appreciative to the Qatar Cancer Society for this excellent collaborative providership, with the common objective of enhancing knowledge, skills, and attitudes in order to provide the Qatar community with a safe, highly effective, and exceptional client service performance. 
The Exploring Blood Dyscrasias: Multiple Myeloma Webinar was designed to improve participants' understanding of the disease's pathophysiology, risk factors, management, prevention, and available resources from the Qatar Cancer Society. The webinar was also used to promote Qatar Care and the Qatar Cancer Society's campaign for the promotion of a healthy lifestyle as a means of preventing this type of cancer. Two hundred fifty (250) allied health specialists from several prominent institutions attended the virtual colloquium.
Dr. Hadi Mohammad Abu Rasheed, the program's esteemed speaker and the head of the Qatar Cancer Society's professional development and scientific research committee, discussed various concepts on Multiple Myeloma, including its general overview, the various modifiable and non-modifiable risk factors, how the general population can prevent it, clinical manifestations that can manifest, how differential diagnosis is done, and what services Qatar Cancer Society has to offer. The speaker also highlighted the available lifestyle modifications for the prevention of Multiple Myeloma.