Apr 26, 2022
Uncovering Dementia: Towards Better Care Coordination
---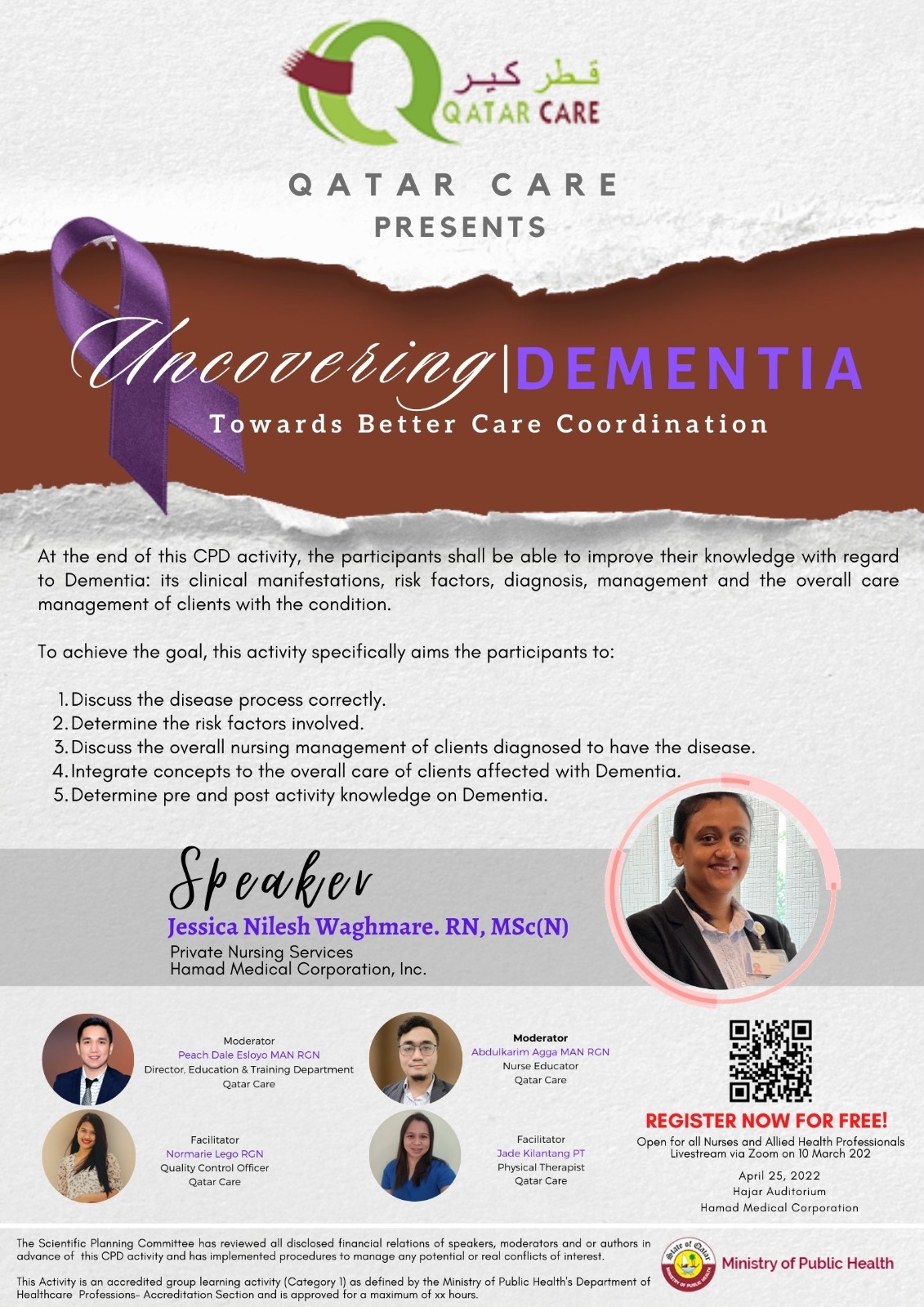 Uncovering Dementia: Towards Better Care Coordination
Abdulkarim Agga MAN
On the 24th and 25th of April the Scientific Planning Committee of Qatar Care, with the collaborative efforts of the Educators from various agencies under Hamad Private Nursing Services, came up with a timely and effective teaching and learning scheme and launched of Dementia passport for its nurses handling patients with cognitive challenges hereto referred as Dementia. 
The activity aims at evolving the participants' traditional knowledge of Dementia from just "forgetfulness" to its core. How a person came out to be demented by learning about its physiological changes, manifestations, the appropriate medical approaches, and most importantly, the role of the nurses embodying the person-centered care approach.
Jessica Nilesh Waghmare MSc(N), who works as an Acting Educator at Hamad Medical Corporation Private Nursing Services and wrote a research paper on Nurse Assessment Survey on Dementia training and Education Among Nurses in Qatar: Descriptive Survey: ADI London paper accepted February: 2022 at HMC, was the program's esteemed speaker. She spoke on recent advances, research trends, and policies, as well as accomplishments and problems in the field of dementia in Qatar, as well as global progress and issues in this field, and provided recommendations to improve outcomes.
The entire activity involves the participants in numerous interactive sessions in which they will be able to utilize what they have learned from the speaker(s) in a therapeutic activity simulation. This may give them firsthand experience with one of the first steps in giving tailored care to a Dementia patient. In the State of Qatar, a number of broad policy interventions have been established through collaboration with multiple stakeholders across different sectors to better facilitate the provision of care, mitigate stigma, and set future milestones as part of a roadmap for making Qatar a more dementia-friendly country, which is further enhanced by novel clinical research currently taking place in Qatar.
In this event, Dementia Passport- an innovation developed by HMC-PNS was launched. The passport is aimed at guiding nurses on the care preferences of clients with Dementia as the healthcare sector gear toward more inclusive care through the implementation of PCC.
The seminar was spearheaded by Peach Dale Esloyo, RGN, MAN, the CPD Chairman with the SPC team composed of Normarie Lego, RGN, Vesa Lara Malaine Raga, RGN, and Abdulkarim Agga, MAN. The seminar was indeed a success with the support of Qatar Care's CEO, Abdulrahman Almajed; Executive Director, Saleh Salem Al Eida; General Manager, Mary Rose Uy, RGN; and, Assistant General Manager, Rowena Dimpaso, RGN.
Indeed, in Qatar Care, delightfully grateful to the Hamad Medical Corporation Private Nursing Service for this remarkable joint provider ship with a mutual goal of improving knowledge, skills, and attitude to implement a safe, highly effective, and excellent client service. As John Rockefeller said, "We are never old to study and learn new things, each time the lessons are studied comes new meaning, some new thought which will make us better."