Jun 28, 2022
Qatar Care Emerged Triumphant on Heart Disease Video Making Competition
---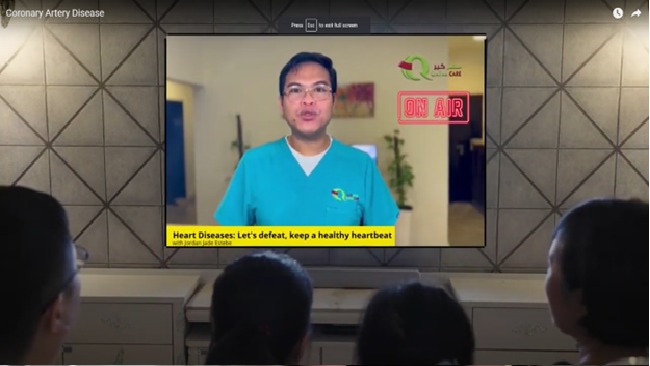 Qatar Care Emerged Triumphant on Heart Disease Video Making Competition
LUSAIL City—Qatar Care, with the other 10 outsourcing agencies under Hamad Private Nursing Services (PNS), competed in a video-making competition with the theme, Heart Diseases: Let's defeat, keep a healthy heartbeat on 26-27 June 2022. Each outsourcing agency was asked to select from Coronary Artery Disease, Brugada Syndrome, or Heart Failure.
The creation of the video was made possible by the combined efforts of Abdulkarim Agga, RN, MAN and Peach Dale Esloyo, RN, MAN from Qatar Care's Education and Training Department and Bea Lamanero, RN from the Operations Department. The activity was directed by Riza Mae Gerong, RN and Rhodora Villaraza, RN with Anna Rocel Lapined, RN and Jordan Jade Estebe, RN who played as the actors and the Education and Training Department team served as the consultants. Qatar Care made the decision to create a film about coronary artery disease after holding a series of meetings and assessing the benefits and drawbacks.
The competition was judged by the Hamad PNS educators, Marwa Moghazi, RN and Jessica Waghmare, RN, MSC and the resource speaker for the activity, Kristina Flores, RN, a staff nurse working at Hamad Heart Hospital.
The winners of the activity were Tabeeb Care (3rd place), Qcare Health Services (2nd place), and Qatar Care, as the Champion. Prime Care, the sister company of Qatar Care, on the other hand, received a special citation for the innovative making of the video.
These activities provided not only an avenue for demonstrating creativity of talented staff but also to provide supplements to the existing learning infrastructures that can be utilized effectively by the nurses and professional health care providers.
Scan the QR codes below to watch the full videos.