Jul 30, 2022
IPSG 6 Safety from Falls: Stand Strong, Get Strong, A Webinar
---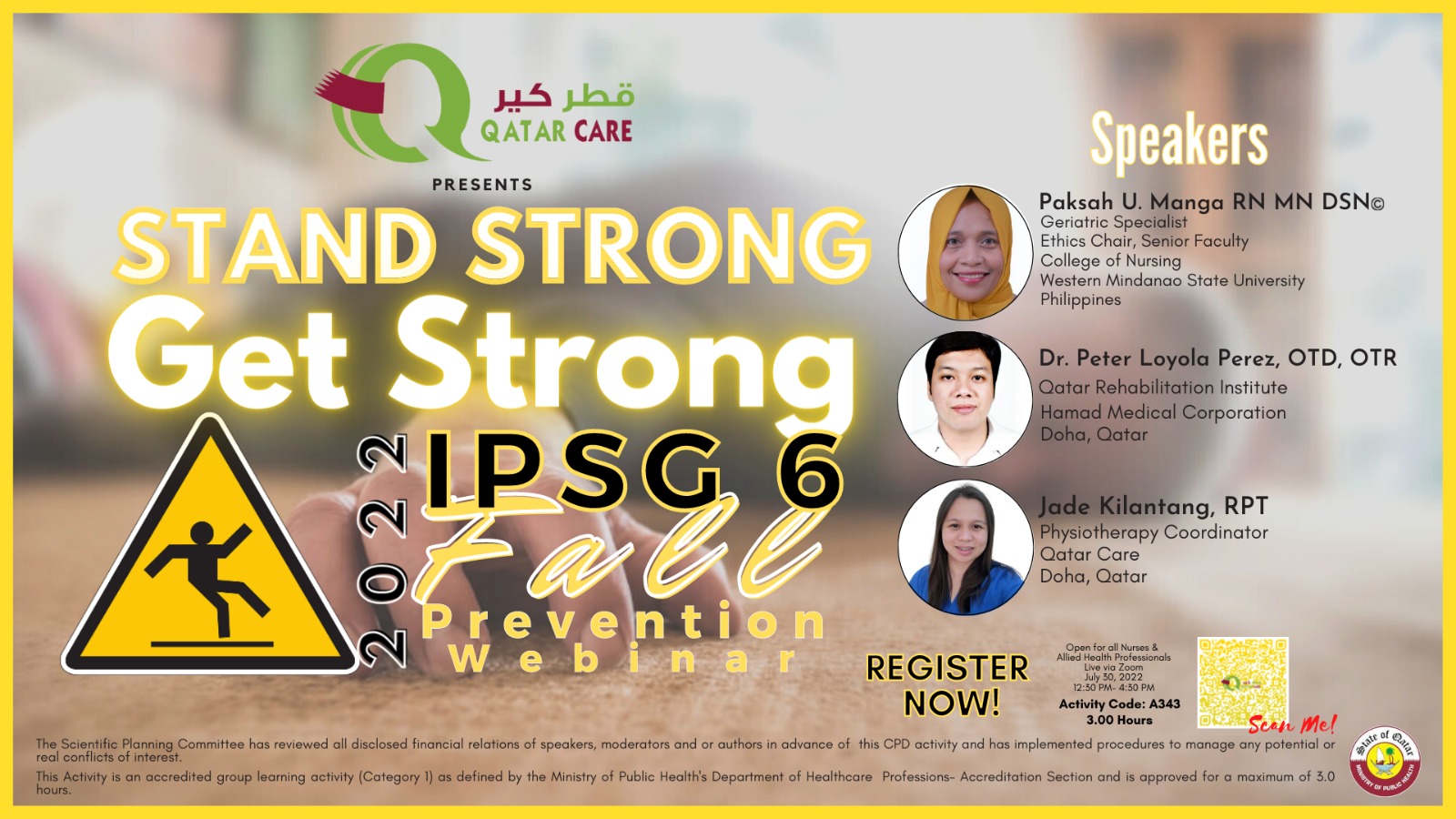 IPSG 6 Safety from Falls: Stand Strong, Get Strong, A Webinar
By: Zorayda Zaide, RGN
The director of the Education and Training Department of Qatar Care, under the leadership of Peach Dale Esloyo, MAN, has proven to be visionary. For several years it never ceases to elevate even twice the threat that COVID-19 posed to its commitment to providing high-quality care to its clientele. The pandemic did not hinder it to offer an excellent service to the learners of Qatar Care nor the actualization of its aspirations for the organization.
On the last 30th of July 2022, a webcast was conducted by the department titled, "Stand Strong, Get Strong 2022: IPSG 6 Fall Prevention Webinar" spearheaded by Abdulkarim O. Agga, MAN Qatar Care's patient quality Nurse Educator and his team, the Scientific and Planning Committee. The activity aims at providing a comprehensive discussion of the factors associated with falls. It also sets to debunk the fallacies surrounding its occurrence towards the elderly and the traditional mindset of the patient and the family members. The activity intended to infuse ideas to its participants about the appropriate exercises necessary to prevent the incident, mitigate injuries if a fall has already occurred, rehabilitate for reversible injuries and prevent recurrence as more severe complications may arise in its recrudescence.
According to Paksah U. Manga, a registered nurse and a Geriatric Specialist, and one of the resource speakers of the said activity, "Nurses function independently to a high fall risk patient in the absence of a Physiotherapist or an Occupational Therapist" which is concurred by Jade Kilantang, a registered Physiotherapist, and one of the presenters, as routine exercises prescribed to the patients are uncomplicated and can be taught to the nurses, even more so to the family members and the patient themselves. Dr. Peter Loyola Perez, a registered OT and a Doctor of occupational therapy stated in his presentation that "one of the key principles to debunk a patient's fallacy on falls is their perception towards the incident, about themselves and their medical condition, and the involvement of the family towards it. A patient at risk for falls needs integrated attention from the multidisciplinary care team in order to achieve fall-proof living conditions with their own families in the comfort of their own homes.
This conference is just one of the many initiatives the Qatar Care Education and Training Department and its SPC committee members have hosted as it stays true to its vision of providing high-quality care to its clients by bringing forth highly skilled and intellectual health practitioners to the field in taking quality care of the Qatari community and the adopted citizens of Doha, Qatar.